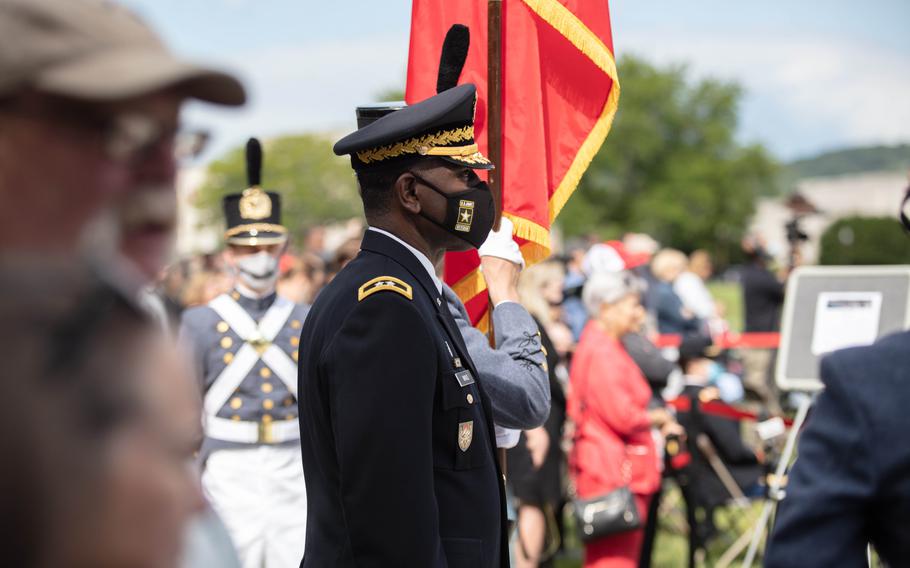 Virginia Military Institute Superintendent Cedric T. Wins stands on the parade grounds before leading the Change of Commany ceremony at the school in Lexington, Va., on May 14, 2021. (Parker Michels-Boyce/For The Washington Post)
Retired Army Maj. General Cedric Wins had a message he wanted to send.
The first Black superintendent of Virginia Military Institute went onto Facebook Jan. 21 and set off a social media skirmish.
His target: a well-connected white alumnus who'd questioned VMI's push for diversity, equity and inclusion at the nation's oldest state-supported military college.
Carmen D. Villani Jr., a member of the Class of 1976, had appeared on a Richmond radio show and urged fellow graduates to ask the state legislature to "look very seriously" at an extra $6.1 million for their alma mater, which received $21.6 million in state funding for the 2021-22 academic year. He also warned that critical race theory — an academic framework for examining system racism under attack by conservatives — had "entered into the VMI realm."
The additional $6.1 million had been requested by VMI to cover the cost of a host of reforms in the wake of a state-ordered investigation that found the college suffers from a "racist and sexist culture."
If approved by General Assembly this year, the money would pay for expanded Title IX and diversity offices, three admissions counselors who would target underrepresented populations, and an ongoing effort to rebrand and re-contextualize the college's numerous Confederate tributes.
"Mr. Villani," Wins wrote on a public VMI Facebook group for parents, cadets, and alumni that boasts more than 3,700 members. "You advised the listeners to urge the members of the General Assembly to 'look very seriously' at VMI's funding request, a request you have no understanding about. VMI's funding request will pale in comparison to that of the other public colleges in the stat
---
Read Full Article at www.stripes.com
---