Featured photo: (from l-r) Sharon Hightower, Felton Foushee, Goldie Wells, Cecile Crawford, Portia Shipman, LaToya Bernice Gathers
In Districts 1 and 2 of the Greensboro City Council, incumbents Sharon Hightower and Goldie Wells will face off against a number of incumbents to keep their seats this election season.
Early voting starts on April 28 and goes until May 17. The general election for the Greensboro City Council races will take place on July 26.
While the Greensboro City Council race is nonpartisan, Triad City Beat has included the political party that each candidate has registered under as noted on their voter registration.
The candidates are listed in order of last name; incumbents go first.
To find out which city council district you are in, visit here.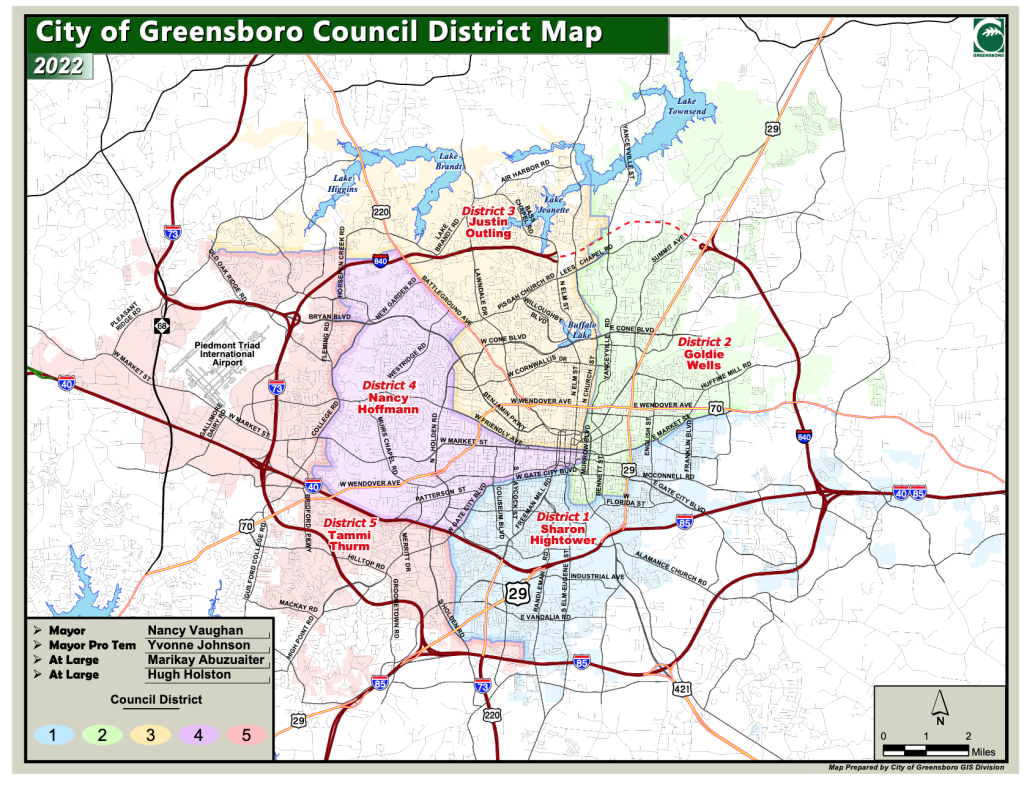 District 1 starts just south of Gate City Blvd. and stretches east down I-40W towards Sedalia and south towards Old Randleman Rd.
Sharon Hightower (i, D)
An incumbent with a mixed history on racial justice
While TCB did not receive answers from Sharon Hightower in time for publication, her history as a two-term incumbent shows her voting record and her priorities.
Hightower won her seat back in 2017 with overwhelming support, garnering more than 84 percent of the vote.
In a previous TCB piece, Hightower pointed to her work as the city council liaison on the Ad-hoc Committee on African-American Disparity as well as passing the city's $15 per-hour minimum wage as efforts she's made to close racial disparities in Greensboro. She also mentioned wanting to continue being involved with the city's Minority Women Business Enterprise program which provides opportunities for minority contractors.
Hightower was also pivotal in the passage of Juneteenth as a citywide holiday, an act that was finalized in 2020.
When it comes issues of policing, Hightower had had a measured response. In the previous TCB piece, she rejected the notion of defunding the police, stating, "When we talk about defunding the police, it's really not 'get rid of the police' because we need policing. I think it's really a conversation around, can we do both? Can we have policing, but also have the resources that the community really needs to strengthen their community, whether it's more community recreation centers, more mentorship, more education."
She expressed support for Cure Violence as well as racial-equity training for police as well as investments in affordable housing, job training and mental-health services as alternatives to defunding law enforcement.
In 2020, in the aftermath of the George Floyd killing, both Hightower and
---
Read Full Article at triad-city-beat.com
---