Medical schools head into 2022 with a mandate for measurable change in trying to eliminate racial inequities in physician education.
In many cases, faculty and students say, the change is being led by students, emboldened, in part, by the racial tumult of 2020 and the COVID-19 pandemic, which showed the stark contrast among racial groups in healthcare access and outcomes.
Students' voices are more often being heard and acted upon in a way that has run counter to the historic power structure of medical schools.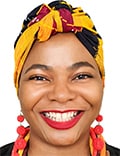 Naomi Nkinski
Naomi Nkinski, a fourth-year medical and master's of public health student at the University of Washington (UW) School of Medicine in Seattle, is among the voices campaigning for reforms.
In her first year of medical school, Nkinski was taught, as students before her, that the estimatedglomerular filtration rate (eGFR) for kidney function was different for Black and White people and that a coefficient for race was included when scoring kidney function, she told Medscape Medical News.
This algorithm has a direct effect on outcomes, as an adjusted score delays the ability of Black people to get diagnosed with kidney disease or be eligible for a kidney transplant.
This didn't make sense to Nkinski, as she knew there was nothing biologically different between the kidneys of Black and White people.
So she started asking questions in a lecture for explanation regarding what coefficient to use for a person of mixed race or when a Black person's kidney was transplanted into a White person.
The lecture got very heated, she said, and it set off a series of meetings with faculty and administration.
Two years later, in the summer of 2020, UW changed its protocols and now excludes race as a variable in determining kidney function. The medical school acknowledged her advocacy as a driver for change, according to the UW Department of Global Health newsletter. Changes were also made at other medical schools across the country after similar challenges.
Nkinski, who notes that the eGFR is only one small step in addressing inequities, credits the UW faculty for taking her questions seriously and for advocating on her behalf among colleagues.
"I don't think it would have happened if there weren't also faculty that were willing to take learning as a bidirectional process. The physicians learn from students and the students learn from physicians," she said.
---
Read Full Article at www.medscape.com
---