Editor's note: This is the first story in an ongoing series about how Oregon officials managing groundwater supplies have fueled crises and inequities, leaving the state ill-prepared to meet the growing challenges of drought and climate change.
The warnings were hard to miss on a forsaken stretch of Highway 26 in Eastern Oregon. A sign reading "Travel at own risk" clung upside down to a weather-beaten post. A private driveway forewarned: "If you haven't been invited into our ranches, you are not welcome."
At the end of the road, a gray-haired man stepped out of a mobile home and frowned. Marv Farley was having a bad day, the kind with too much work and not enough help.
"We're clearing everything out," said the 67-year-old, who was in the process of packing up a sprawling cattle ranching business that's been in his family for generations.
"I'm tired, I'm working 18 hours a day," he said.
In November, Farley took a break to drive through the sagebrush of Malheur County's Cow Valley and have one last look at a landmark from his childhood — a dry gully. He remembers it differently.
"There used to be water in this creek all year long. When me and my brother were little kids, we'd bring our fishing poles and catch little catfish," he said.
The fish are long gone. Farley said the creek has been continuously dry for 18 years. Wells for home use and livestock have failed, too. The pumps had to be lowered to reach the only year-round water supply in the valley deep underground.
Farley and his older brother, Guss Young, sounded alarms to state regulators in 2015.
"We have creeks and springs drying up that have always had an abundance of water," Young wrote in an August 2015 email to the Oregon Water Resources Department, the state agency in charge of managing water supplies. The brothers pointed at a farm across the highway, where monumental sprinklers called pivots use groundwater to turn the valley floor green with hay crops in spring and summer.
Today, out-of-state investors control the pivots, and the valley's entire groundwater supply.
Situated about 40 miles from the nearest grocery store, and more than 300 miles from Portland, Cow Valley is not as much of an outlier as it seems. The 33 square-mile patch of Eastern Oregon is emblematic of how the Oregon Water Resources Department has long ignored sustainability concerns. More than six years after media reports and a state audit exposed the agency for failing to protect stable groundwater supplies across the state, policies and practices enabling overpumping have not substantially changed.
Rural communities have been first to bear the consequences, which are worsening under the stress of megadrought and climate change. Now, Oregon lawmakers are pouring more money than ever into a troubled bureaucracy, as agency leaders promise that more data and studies can lead to better water management.
'Barren waste to productive fields'
The U.S. Geological Survey estimates about 30% of all the freshwater on Earth exists underground. This unseen wealth of water comes largely from rain and snow saturating the dirt and percolating through rocks. From there, some of the groundwater makes its way back to the surface, evaporating from soil, or discharging through natural springs and coalescing into rivers and creeks. Without humans much of this water would remain stored underground, while the amount leaving would not exceed what mother nature recharges.
But as aquifers across Eastern Oregon now show, pumping by wells can erase eons of equilibrium in just a few years, endangering shallow connections to the surface.
Farming's reign in the Cow Valley dates back to 1949, when a developer named Rankin Crow drilled the first irrigation well. The project soon transformed what had been sagebrush and cattle range to "a domain where green growing crops stretch to the horizon," according to a 1950 article in The Malheur Enterprise. The newspaper cheered Crow for converting "a barren waste to productive fields."
A cattle rancher and rodeo producer born at the turn of the last century, Crow's autobiography describes how he traded rangeland to pay a well driller, then persuaded the Idaho Power Company to shoulder the cost of building a line capable of powering deep agricultural wells. The electricity would cost him, but the water itself was free for the taking.
Crow's neighbors started sinking their own irrigation wells, which triggered a bitter legal fight over who had dibs on the valley's quickly shrinking water table.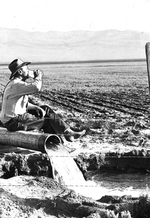 In 1959, the state engineer stepped in to declare Cow Valley as Oregon's first ever critical groundwater area. The designation called for controls to protect "reasonably stable" groundwater levels, kicking off 60 years of monitoring and data available through the water resources department. In effect, the 1959 order enshrined one user's dominance over the resource for generations to come. It banned future groundwater rights, but did not diminish existing claims — like those issued to Crow just a few years earlier.
Crow's legacy in the valley continues through those claims. Under state law, Crow's original water rights are permanently attached to this land. So, in 1978 when he died, his unsustainable wells lived on.
Now, Crow's former empire literally glows on the horizon during spring and summer, as one neighbor remarked. Electric lights blaze from the pivots spraying water at night: "When you're used to total darkness, it looks like you suddenly came across a Bi-Mart parking lot," said Karen Oakes Ramer, a rancher who owns property about 10 miles away.
In 2019, Green Alpha II LLC acquired about 3,300 acres with Crow's water rights for $8.1 million. The corporation is part of a vast network of entities controlled by Homestead Capital, a private equity firm based in San Francisco and founded by former directors from Goldman Sachs and J.P. Morgan. Corporate filings and property records show the Homestead firm controls more than 50 similarly-named corporations with title to thousands of acres of farmland across the U.S.
"We like to find properties that have been under capitalized," the firm's website states.
Green Alpha's Cow Valley farm manager Skye Root, who grew up in Harney County and is base
---
Read Full Article at www.opb.org
---