The Power of Voice in Addressing Race Equity in Sports: A Conversation with Daryl Homer
Beyond athletics, participation in sports builds character, teaches strategic thinking, leadership skills and offers opportunities to take risks and build resiliency. On March 24 at 1 p.m., join Points of Light and Morehouse College for a conversation that explores race equity in sports from little league to college to the Olympics. Our speakers will discuss access, representation, and the power of voice. Attendees will learn about the actions that colleges, corporations and athletes are taking to change the game and how they can be involved in breaking barriers.
March 24 at 1 p.m. ET
#ListenLearnAct
Clarissa Myrick-Harris, Ph.D., Chair, Morehouse College Humanities Division
Scholar, public historian and higher education administrator Dr. Clarissa Myrick-Harris is currently Chair of the Humanities Division of Morehouse College and Professor of Africana Studies. She is also the convener of the Committee to Commemorate the Atlanta Student Movement, which has developed the Atlanta Student Movement Initiative to share the stories and lessons of student activism of the 1950s and '60s with young activists fighting against social injustices of today. This initiative includes a series of intergenerational conversations launched Fall 2020 as well as an outdoor exhibition and symposium planned for 2021. During her first tenure at Morehouse College (2012-2016), she was Dean of Humanities and Social Sciences, the first woman academic dean at the institution; and then served as Associate Provost for Pedagogical and Curricular Initiatives.  Her higher education leadership experiences also include serving as Interim Associate Provost of Strategic Academic Initiatives and Graduate Studies at Lincoln University of Missouri and Provost at Savannah State University.
Dr. Myrick-Harris was the founding Director of the Curriculum and Faculty Enhancement Program and then Interim Executive Director of the UNCF Institute for Capacity Building (2007-2012). As the National Director of the Global Issues Honors Consortium (GIHC) in the mid-2000s, she was National Director of a partnership between the University of Minnesota (UMTC) and HBCUs Dillard University and Tougaloo College to prepare students for graduate study in international affairs.  While in that role, she was also appointed Distinguished Teaching and Research Fellow in the Interdisciplinary Center for the Study of Global Change at UMTC.
Dr. Myrick-Harris' scholarship focuses on African American leadership and institution building.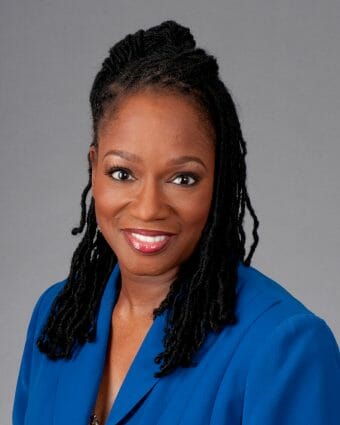 Her publications include Perspectives on Exemplary Transformational Leadership Among Presidents at Historically Black Colleges and Universities, (2014); "Call the Women: The Tradition of African American Female Activism in Georgia During the Civil Rights Movement," in the book Southern Black Women in the Modern Civil Rights Movement, (2013); and "Behind the Scenes: Two Women of the Free Southern Theater," a chapter in the groundbreaking volume Women of the Civil Rights Movement: Trailblazers & Torchbearers, 1941-1965 (1995). She recently completed a historical context study for the National Park Service entitled How They Lived, (2020) which focuses on the family home of civil rights icons Martin Luther King, Jr. and Coretta Scott King and the childhood home of Maynard H. Jackson, Jr., the first black mayor of Atlanta, GA.
The educator earned a Ph.D. in American Studies (African American Studies Emphasis) from Emory University, Master's degree in News-Editorial Journalism from The Ohio State University, and B.A. degree in English from Morris Brown College.
Daryl Homer, U.S. Fencer, Team Toyota
Daryl Homer is a three-time Olympian who competed in the 2012, 2016 and
---
Read Full Article at www.pointsoflight.org
---