Campus & Community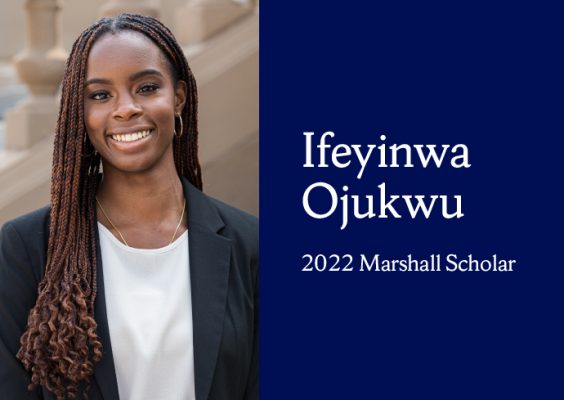 Ifeyinwa Ojukwu, a biology and psychology major in the College of Arts and Sciences with a minor in public health in the Falk College of Sport and Human Dynamics, has been named a 2022 Marshall Scholar. Founded in 1953, the Marshall Scholarships finance young Americans of high ability to study for a graduate degree at an institution in the United Kingdom in any field of study. Ojukwu was one of 41 students selected from around the country and is Syracuse University's fourth Marshall Scholar.
A Coronat Scholar, a 2021-22 Remembrance Scholar and a member of the Renée Crown University Honors Program, Ojukwu will pursue a master's degree in precision medicine (PM) at University College London. Upon completion of her Marshall scholarship, she plans to pursue an M.D./master of public policy program in the U.S.
Below, she talks about the scholarship and reflects on her experiences.
01

Your goal is to disrupt race-related health disparities as both a physician and health policy advisor. How do you believe the Marshall Scholarship will help you prepare for your journey towards that goal?

"Race-related health disparities in patient care and outcomes are unfortunately abundant in the U.S, and I've come to realize that ou
---
Read Full Article at news.syr.edu
---