At least 236 colleges or universities have some form of mandatory student training of coursework on ideas related to critical race theory (CRT), according to a database with information from more than 500 institutions.
Among those are 149 institutions that have some form of mandatory faculty or staff training, with 138 mandating school-wide curricular requirements. CriticalRace.org, which compiles the research, told Fox News that these programs focus on concepts like "anti-racism," "equity," "implicit bias" and CRT – all of which have fueled national debate over left-wing influences in education.
WEBSITE LAUNCHED TO TRACK CRITICAL RACE THEORY TEACHING IN HIGHER EDUCATION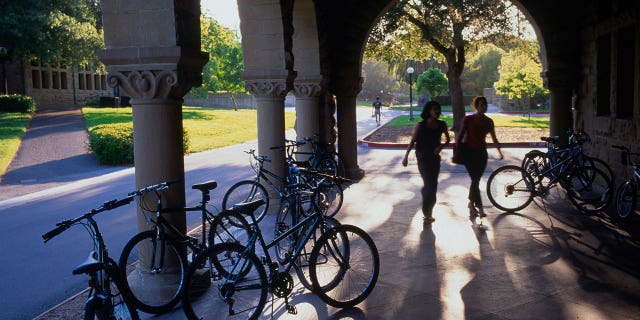 Stanford University campus (David Butow/Corbis via Getty Images)
"Our database shows how race has become a pervasive focus in higher education with a near universal insistence that racism is systemic in the United States," said William A. Jacobson, a Cornell University law professor who founded the sprawling database.
Jacobson added that "higher ed is focused on what divides people, exacerbating rather than solving problems." At times, research has highlighted purported racial segregation both at the K-12 and collegiate levels. 
Authors Robin DiAngelo and Ibram Kendi, whose book explicitly calls for discrimination, are widely included among books and writings in universities, acc
---
Read Full Article at www.foxnews.com
---