March is Women's History Month, which makes it a great time to find a women-focused cycling organization to donate to—and hopefully, one you can contribute to on a regular basis.
With thousands of women worldwide working hard to increase the number of women and girls on bikes, there are so many women's cycling charities to choose from. But running these organizations is not an easy job. As one cyclist noted, running a women-focused cycling nonprofit is challenging work that feels like an uphill battle at the best of times. But these groups are all doing amazing things in their communities and are worthy of our attention and contributions.
Here, we share our non-exhaustive list of a few great women's cycling nonprofits and organizations to donate to this month and every month. This list is primarily focused on US-based women's cycling. If we've missed an organization you love, share it below in the comments!
For getting girls on bikes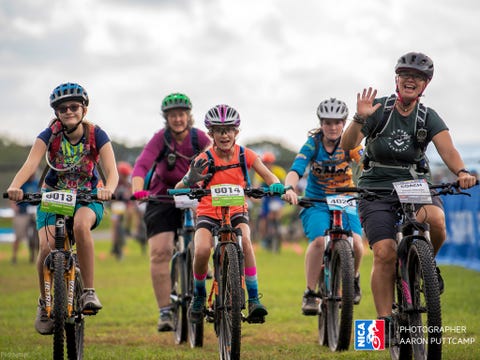 Aaron Puttcamp / Courtesy NICA
The National Interscholastic Cycling Association (NICA) is dedicated to getting more kids on mountain bikes, and the GRiT (Girls Riding Together) program is helping grow the number of girls in the sport. Currently, just 20 percent of NICA cyclists are girls, and the GRiT programs around the country aim to raise that number.
GRiT programs range from girls-only rides and additional instruction to full-blown sleep-away GRiT camps in the summer that bring girls from different states together to shred. While some girls go on to be ultra-racing focused (World Champ Kate Courtney came up through NICA's programming), many just continue riding for fun after graduation.
While you can't donate directly to GRiT, you can earmark your NICA donation as GRiT-specific, or search if your state's NICA chapter has a GRiT program in place and donate directly there.
Little Bellas is a mountain bike organization founded by Olympian Lea Davison and her sister Sabra Davison, along with Angela Irvine. What started as a small program in Vermont in 2007 has grown over the last 15 years and is now a nationwide program that brings girls and women on mountain bikes together in playful events that encourage lifelong participation in cycling. It also focuses on a healthy lifestyle, mentorship, and most importantly, fun.
For boosting diversity in women's cycling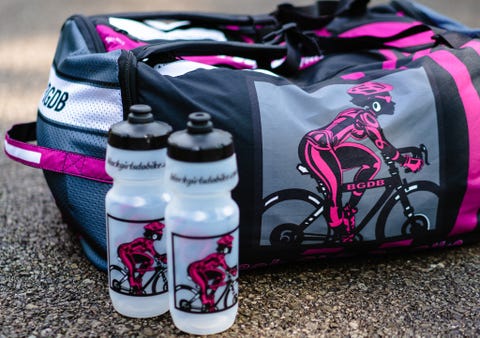 The Black Girls Do Bike "Ride Day" duffle bag and water bottles.
Courtesy Black Girls Do Bike
Black Girls Do Bike (BGDB) was founded in 2013 by Monica Garri
---
Read Full Article at www.bicycling.com
---