The Feb. 21 Williamson County, Tennessee, school board meeting opened with far less commotion than the raucous gatherings that came before it: Gone were the hecklers, sign wavers, screamers and air pokers who made headlines around the world for threatening doctors and nurses who spoke out in favor last summer of reinstating a mask mandate for young children. 
Placards were banned and attendees were warned at the start not to use vulgar language, single out board members or otherwise disrupt the proceedings lest they be hauled off by deputies. 
At issue this dank February night was another target of the right: "Wit & Wisdom", the school district's K-5 English Language Arts curriculum. 
Conservative parent group Moms for Liberty, which spent 1,200 hours dissecting its contents last year, called for the removal of 31 books, including those about Ruby Bridges and Dr. Martin Luther King, Jr., arguing the texts about the civil rights icons were too "dark" and "disturbing" for young readers. 
In response, the 41,500-student district, located some 30 minutes south of Nashville, formed a committee of parents, educators and community members to evaluate the material. Its findings, released in January, were a major blow to the blustery parent group and its vocal supporters.
Just one book, Walk Two Moons, a Newbery Medal-winner about a 13-year-old Native American girl who lost her mother, was recommended for removal: Committee members said it was too emotionally fraught for young students. Six other texts would be slightly modified or taught differently. 
More than 70 people attended the Monday night meeting: Roughly two-thirds of those who addressed the board came out in favor of keeping Wit & Wisdom, including 17-year-old Franklin High School junior Mira Scannapieco.
"From an early age, I was introduced to real world concepts including those surrounding diversity, mental health, human rights, science and politics," she said, barely taking a breath to stay within her allotted time. "Learning about these topics in school gave me a broader perspective, as well as the ability to formulate my own views and opinions. Sheltering today's youth from these important issues doesn't make them disappear."
In the end, after a lengthy discussion, the board voted 8 to 2, with two members absent, in favor of keeping the curriculum.
Saying their concerns were not being taken seriously, many Moms for Liberty members boycotted the meeting. Most notably absent from the critical moment of reckoning was their chapter president, Robin Steenman.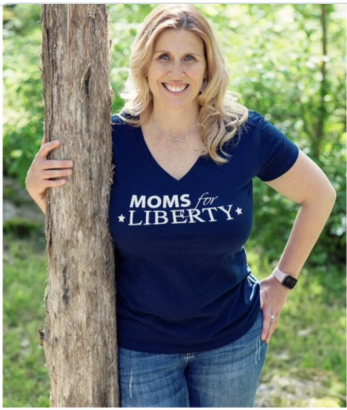 "A lot of people have written it off as not particularly worth their time because we go and we speak before a board and we let them know our concerns — some parents really have poured their hearts out, some parents have just spoken in a common sense way — and it's just a brick wall," she told The 74 hours earlier.
Steenman has three young children, none
---
Read Full Article at www.the74million.org
---